Female Support 180 Vcap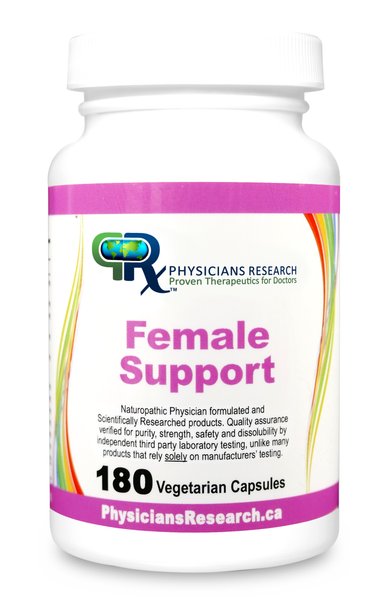 Comprehensive Support for Female Hormonal Balance
Normalizes Estrogen/Progesterone Hormone Ratio
Supports Liver Hormone Metabolism
Minimizes Challenging PMS & Menstrual symptoms
Balances Hormonal Mood Swings

Hormone balance and proper liver function is essential for women to feel and "flow" at their healthiest. When hormonal imbalances exist, women suffer from various premenstrual syndrome (PMS) and menstrual difficulties, including breast tenderness, bloating, water retention, mood swings, headaches, acne and food cravings.  Severe Estrogen Dominance can cause painful, heavy bleeds and can often lead to a diagnosis of PCOS (Polycystic Ovarian Syndrome), Ovarian Cysts, Fibroids (Benign Tumors) or Endometriosis.
FEMALE SUPPORT provides essential hormonal & liver support to balance the fluctuating chemicals that make you a woman as you progress through your monthly cycle. When your liver metabolizes Estrogen properly, your Estrogen/Progesterone ratio is balanced, and you and the people around you are happier.
Serving Size 1 Capsule
Amount Per Capsule
Magnesium
(Magnesium bisglycinate**)
75 mg
Chaste Tree
(Vitex agnus-castus) berries,
dried 20:1 extract, 

min. 5% vitexins

60 mg
Cramp Bark
(Viburnum opulus) bark,
dried 10:1 extract
60 mg
Dong Quai
(Angelica sinensis) root,
dried 6:1 extract
60 mg
Turmeric
(Curcuma longa) root,
dried 25:1 extract, 

min. 95% curcuminoids

60 mg
Black Cohosh
(Cimicifuga racemosa) root and rhizome,
dried 20:1 extract, 

min. 2.5% triterpene glycosides, calculated as 27-deoxyactein

60 mg
Valerian
(Valeriana officinalis) root and rhizome,
dried 6:1 extract
25 mg
Passionflower
(Passiflora incarnata) aerial parts,
dried 4:1 extract
25 mg
Red Raspberry
(Rubus idaeus) leaves,
dried 10:1 extract
25 mg
Vitamin B6 Pyridoxine
(Pyridoxal-5-Phosphate)
25 mg
Beta-carotene
(All-trans beta-carotene)
3,333 IU (500 mcg RAE)
1000 mcg
Chromium
(Chromium polynicotinate USP)
100 mcg
**Albion Labs
Non-medicinal Ingredients: Vegetarian capsule, cellulose, water, silicon dioxide and hypromellose.
USP (U.S. Pharmacopeia) ingredients meet or exceed upper limits for nutrients.
FOR DOCTORS
Premenstrual syndrome (PMS) encompasses many physical and psychological symptoms manifesting in around the second half of the luteal phase of the menstrual cycle, escalating as the menses approaches, then diminishing quickly with the onset of flow.
PMT-A  most common, 66-80% of PMS patients;  anxiety, irritability, insomnia and general nervous tension. Likely cause: Estrogen dominance over Progesterone in luteal phase.
PMT-H  second most common 60-66% of patients;  weight gain, abdominal bloating, breast tenderness, engorgement, edema of the face, hands and feet, imbalances of renin-angiotensin-aldosterone axis. Likely Cause:  Deficient dopamine
PMT-C  appetite increase, sweet craving for sweets, resulting hypoglycemia including headaches, fainting, fatigue, dizziness, palpitations and trembling.  Likely cause:  Abnormal glucose tolerance curves
PMT-D  least common sub- group, 1.7-23% of patients with PMS;  depression and suicidal tendencies.  Likely cause:  Excess Progesterone over Estrogen & High Hair Lead in some.
Other possible etiologies include serotonin/tryptophan imbalances, norepinephrine excess, norepinephrine/tyrosine deficiency,  hypothyroidism, androgen imbalances, GABA deficiency, essential fatty acid deficiency resulting in abnormal prostaglandin synthesis, possible genetic predisposition, elevated prolactin, pyridoxine &/magnesium deficiency, social-psychological stress and elevated melatonin.
MAGNESIUM helps to normalize dopamine levels as the depletion of both are commonly seen with menstrual dysfunctions.
CHASTE TREE Vitex agnus-castus contain dopaminergic compounds that suppress prolactin, which improves the many premenstrual symptoms including mastodynia, psycho-somatic symptoms, as well as cramping and regulating the menstrual flow.
CRAMP BARK Viburnum opulus is an anti-spasmodic to relieve uterine cramps and muscle spasms.
DONG QUAI Angelica sinensis has the beneficial effect of regulating estrogen to assist with hormonal balancing. As female ginseng, it has the traditional use as a blood tonic, to revitalize the body, enhancing circulation, providing energy and greater resistance to disease.
TURMERIC Curcuma longa has many effects, including anti-oxidant and anti-inflammatory, making it supportive for liver, uterine and breast health.
BLACK COHOSH Cimicifuga racemosa indicated for premenstrual symptoms and dysmenorrhea. Insomnia and emotional symptoms may be improved with black cohosh, as luteinizing hormone (LH) levels are quite reduced. Patients on tamoxifen can benefit from potentiated effects, without stimulating estrogen positive receptor cells. Black Cohosh extracts are shown to stimulate bone metabolism, minimizing bone loss.
VALERIAN Valeriana officinalis has benefit in treating common PMS symptoms including insomnia, anxiety, nervous tension, stress, irritable bowel symptoms and menstrual cramps as a sedative and muscle relaxant.
PASSIONFLOWER Passiflora incarnata is a calmative used to treat insomnia, hysteria and also has analgesic properties.
RED RASPBERRY Rubus idaeus contains nutrients to strengthen the uterine muscles, and has been used for dysmenorrhea, menorrhagia (heavy and painful periods).
VITAMIN B6 enhances progesterone levels which improves the symptoms of irritability and fatigue. It also regulates aldosterone, which improves water retention.
BETA-CAROTENE pro-vitamin A is a powerful anti-oxidant.
CHROMIUM Chromium polynicotinate has a higher absorption rate due to its binding to niacin, which makes its' assimilation easier.
Chromium polynicotinate is involved with insulin production, which helps glucose absorption into the cells. Thus, chromium plays a crucial role in glucose, carbohydrate and fat metabolism and blood sugar regulation. One study showed that use of chromium may help to reduce carbohydrate cravings and regulate appetite. In fact, depressive patients with high carbohydrate cravings treated with chromium experienced significant improvements in their depression. Studies have shown the supplemental chromium can improve the signs and symptoms of diabetes and insulin resistance. Another study underlined dramatic body fat loss & less mass loss, in overweight women taking chromium polynicotinate.
Adult: 2 capsules 2X daily empty stomach, away from food or antibiotics.
Recommended Dose: Take 1 capsule daily away from food or antibiotics.
Recommended Use: Female Support relieves premenstrual symptoms, assists in the maintenance of good health. Turmeric is used in Herbal Medicine to aid digestion.
Duration of Use: Use for a minimum of three months to see beneficial effects. Consult a health care practitioner for use beyond three months.
Cautions: Consult a health care practitioner if symptoms persist, worsen or a skin rash develops. Consult a health care practitioner prior to use if you have diabetes, stomach ulcers or excess stomach acid, gallstones, or bile duct obstruction, a liver disorder or develop symptoms of liver trouble. Consult a health care practitioner if you are taking anti-platelet medication, blood thinners or other prescription medications. Consumption with alcohol, other medications or natural health products with sedative properties is not recommended. Consult a health care practitioner prior to use if you are breast feeding or taking hormone-containing medications such as progesterone preparations, oral contraceptives or hormone replacement therapy. Consult a health care practitioner prior to use if you have or are predisposed to cancer. Discontinue use and consult a health care practitioner prior to use if you experience breast pain, discomfort and/or tenderness; if menstruation is delayed or absent, or if you experience increased menstrual bleeding time.
Known Adverse Reactions: Some people may experience drowsiness. Exercise caution if operating heavy machinery, driving a motor vehicle or involved in activities requiring mental alertness within 2 hours of consumption. Consult a health care practitioner if sleeplessness persists continuously for more than 3 weeks (chronic insomnia). Hypersensitivity (e.g. allergy) has been known to occur; in which case, discontinue use.
Contraindications: Do not take if you are pregnant. Do not expose yourself to sources of ultraviolet rays (e.g. the sun & tanning salons) for prolonged periods.
Hypoallergenic: Thu product contains NO gluten, dairy, beef, egg corn, soy peanut, pineapple, yeast, or sugar.
Do not use if bottle seal is broken or missing.
Store in a cool, dry place (59°F-85°F) away from direct light.
KEEP OUT OF REACH OF CHILDREN.
Related items