Melatonin 90 Vcap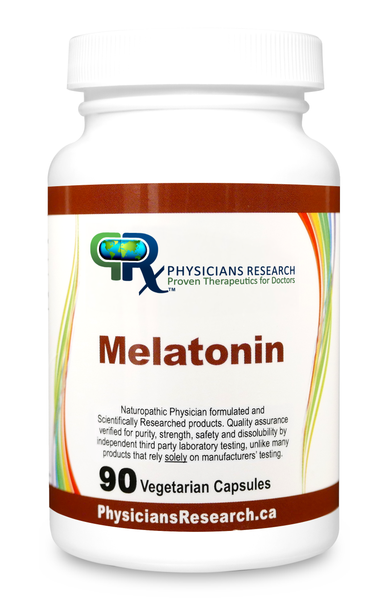 Pharmaceutical Grade Hormonal Support to Regulate Healthy Sleep Patterns
Promotes Healthy Internal Clock

Natural Sedation & Relaxation & Sedation

Improves Sleep Quality

Antioxidant, Anti-Aging & Immune Benefits

Indicated for: Sleeplessness, Jet Lag, Night Shift Work
Melatonin, The Super Anti-Aging Hormone
Melatonin production from the amino acid tryptophan declines with age.  The integral role Melatonin plays in regulating the body's healthy sleep/wake cycles is well documented.  Sufficient Melatonin levels are critical for hormonal, heart & bone health. MELATONIN by PHYSICIANS RESEARCH provides 3 mg of pharmaceutical grade, pure melatonin 3 mg in vegetarian capsules.  This may be ideal for addressing patients with occasional sleeplessness.
Serving Size 1-3 Capsules

 

Amount Per Capsule

 

Melatonin
3 mg
Non-medicinal Ingredients: Vegetarian capsule, 

cellulose, water, silicon dioxide and hypromellose.
FOR DOCTORS

MELATONIN by PHYSICIANS RESEARCH™ is an excellent product to consider for reducing occasional sleeplessness. Melatonin is a hormone naturally secreted by the pineal gland that maintains a person's circadian rhythm, the body's internal "clock" that regulates when we fall asleep and wake up. Melatonin is also a powerful antioxidant, scavenging free radicals and supporting the immune system.
MELATONIN, a hormone naturally secreted by the pineal gland, is responsible for sleep patterns by regulating the sleep-wake cycle. These cycles govern a person's normal circadian rhythms. The onset of darkness triggers the production of melatonin to levels that induce sleep, whereas the presence of light causes Melatonin's endogenous catabolism.
Patients with erratic or abnormal sleep patterns, from jet lag or night shift work, geriatric patients and those suffering from initial and/ or maintenance insomnia have been found with low levels of Melatonin. Studies indicate the benefits of Melatonin supplementation before bedtime, as it promotes a sedative-like effect by potentiating gamma-aminobutyric acid (GABA) to include reduced sleep onset, improved sleep quality (length & depth) and healthier sleep patterns. It has been shown to energize the body, boosting alertness on waking.
Melatonin can also be used prophylactically to offset jet lag from traveling across time zones, as this resynchronizes circadian rhythms if taken close to the current bedtime. A potent antioxidant, Melatonin scavenges free radicals and has been reported to be beneficial for immune, bone, cardiovascular and neuroendocrine health.
Adult: Take 1 – 3 capsules daily at/or before bedtime.
Recommended Dose: Adult: Take 1 – 3 capsules daily at/or before bedtime.
Recommended Use: Melatonin helps increase the total sleep time (aspect of sleep quality) in people suffering from sleep restriction or altered sleep schedule, e.g. shift-work and jet lag. Helps relieve the daytime fatigue associated with jet lag. Helps to reduce the time it takes to fall asleep (sleep onset latency aspect of sleep quality) in people with delayed sleep phase syndrome. Helps re-set the body's sleep-wake cycle (aspect of the circadian rhythm)
Duration of Use: For use beyond 4 weeks, consult a health care practitioner.
Cautions: Consult your health care practitioner prior to use if you have a hormonal disorder diabetes, liver or kidney disease, cerebral palsy, seizure disorders, migraine, depression, asthma, cardiovascular disease, hypoglycemia, immune system disease and/or hypertension or if you are taking blood pressure, anticoagulant, anticonvulsant, psychotropic steroids or sedative/hypnotic medications. Caffeine has been known to increase the effects of melatonin (e.g. drowsiness). If symptoms persist continuously for more than 4 weeks (chronic insomnia), consult your health care practitioner. Discontinue use and consult your health care practitioner if any adverse reactions occur such as mild gastrointestinal symptoms (nausea, vomiting, or cramping). Rare allergic reactions have been known to occur in which case, discontinue use.
Contraindications: Do not use if you are taking immunosuppressive drugs. Do not drive or use machinery for 5 hours after taking melatonin. Do not use if you are pregnant or breast feeding. Do not consume alcohol when taking this product.
Hypoallergenic: This product contains NO gluten, dairy, beef, egg, corn, soy, peanut, pineapple, yeast, or sugar.
Do not use if bottle seal is broken or missing.
Store in a cool, dry place (59°F-85°F) away from direct light.
KEEP OUT OF REACH OF CHILDREN.
Related items