Digestion Support 90 Vcap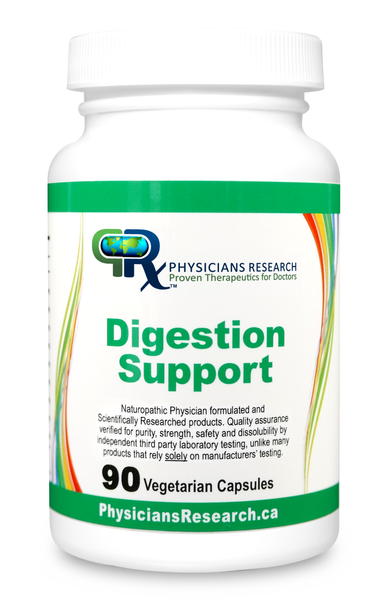 Potent, Broad Spectrum Plant-based Enzymes for Optimal Digestion & Absorption
Enzymes to Support Healthy Digestion in Every Part of the Digestive Tract

Supports Digestion of Protein, Fats & Carbohydrates (including Beans, Grains, Fruits & Vegetables)

Treats Digestive Symptoms (Gas, Bloating, Heartburn &/ Acid Reflux)

Indicated for Digestive Difficulties from Surgery or Illness including Enzyme Insufficiencies, Inflammatory Bowel Diseases, Compromised Intestinal Permeability (aka "Leaky Gut"), Malabsorption and Malnutrition. 
Enzymes are special molecules, made by the liver and stored in the gallbladder, which are needed to break down food into the form required for the body to absorb and get value from. For most people, the adequate production of enzymes is compromised by the use of caffeine, alcohol, and pharmaceutical drugs, and with aging. Inadequate levels of digestive enzymes may lead to the development of food allergies.
DIGESTION SUPPORT is formulated to supplement healthy levels of enzymes to enhance digestive function and balance the delicate bowel environment. Optimal health is derived from well-functioning bowels and the proper absorption of food, vitamins & minerals.
DIGESTION SUPPORT contains the following plant-based, hypoallergenic  enzymes:
LIPASE, specific to the breakdown of Fats
PROTEASE, specific to the breakdown of Proteins in a neutral environment of the small intestine
ACID PROTEASE,  specific to the breakdown of Proteins in an acidic environment of the stomach
AMYLASE, specific to the breakdown of Starches or Carbohydrates
CELLULASE & ALPHA-GALACTOSIDASE, specific to the breakdown of legumes (beans), fruits, vegetables and grains.
Serving Size 1-2 Capsules

 

Amount Per Capsule

 

Enzyme Blend
with the following minimum enzyme activity:
346.6 mg
Alpha-Amylase
(Aspergillus oryzae)
16,000 FCC DU
114.4 mg
Protease
(Aspergillus oryzae)
41,000 FCC HUT
59.7 mg
Marshmallow
(Althea officinalis) root

50 mg
Slippery Elm
(Ulmus fulva) bark 

50 mg
Lipase, Triacylglycerol
(Rhizopus oryzae)
45,000 FCC LU
37.7 mg
Acid Protease
(Aspergillus niger)
100 FCC SAP
30.0 mg
Alpha-Galactosidase
(Aspergillus niger)
450 FCC AGU
17.7 mg
Cellulase
(Trichoderma longibrachiatum)
1,200 FCC CU
5.1 mg
Non-medicinal Ingredients: Vegetarian capsule, cellulose, water, silicon dioxide and hypromellose.
Adult: 1 – 2 capsules 3X daily with food. Take with the first bite of a meal.
Recommended Dose: Adult: Take 1 capsule 1 to 2 times daily with food. Take with the first bite of a meal.
Duration of Use: For prolonged use, consult a health care practitioner.
Recommended Use: Digestion Support is a digestive aid, providing digestive enzymes to help digest proteins, and aids in reducing gas production/flatulence following a meal rich in fermentable carbohydrates (such as vegetables, pulses/legumes/beans and whole grains).
Cautions: Consult a health care practitioner if symptoms persist or worsen, if you have diabetes or galactosemia. Consult health care practitioner prior to use if you have gastrointestinal lesions/ulcers, are taking anticoagulant agents, anti-inflammatory agents or other enzyme products or are having surgery.
Contraindications: Do not take if you are pregnant or breast feeding. Do not give to children.
Adverse Reactions: Hypersensitivity/allergy has been known to occur; in which case, discontinue use.
Hypoallergenic: This product contains NO gluten, dairy, beef, egg, corn, soy, peanut, pineapple, yeast, or sugar.
Do not use if bottle seal is broken or missing.
Store in a cool, dry place (59°F-85°F) away from direct light.
KEEP OUT OF REACH OF CHILDREN.
Related items