Healthy Gut Support 180 Vcap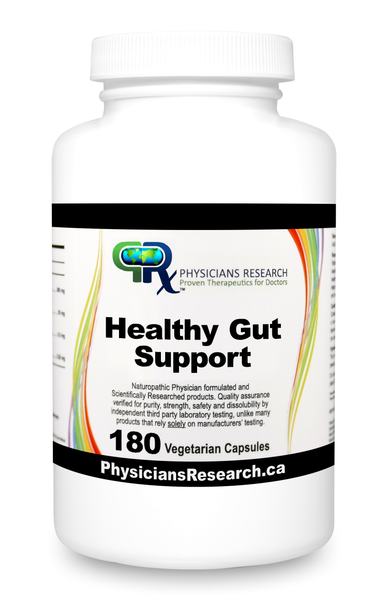 Repairs the "Leaky Gut" for Optimal Digestion & Immunity
Restores Healthy Intestinal Lining Function

Promotes Optimal Digestive Function

Supports for Gastrointestinal (GI) Immunity 
Leaky Gut, medically known as Intestinal Barrier Dysfunction, refers to when the bowel lining is damaged and becomes more permeable than is healthy.  This increased permeability allows large, undigested particles of food to enter the bloodstream which in turn are attacked by the immune system. The result is inflammation of the body's tissues and the development of food allergies.
You're Only as Healthy as Your Gut!
HEALTHY GUT SUPPORT contains botanical & nutritional ingredients to ensure a healthy gut lining and its immunity.  This potent formulation provides energy for the cells, building blocks for the mucous membranes, cell protection against damage and more good guys than bad guys in the turf wars of the bowel. All these elements allow for the repair of the Leaky Gut.
Take HEALTHY GUT SUPPORT if you suffer from the following:
HEALTHY GUT SUPPORT includes by majority:
L-Glutamine, a critical amino acid, provides energy for the intestinal cells and supports immunity during periods of physiological stress.   

N-Acetyl-D-Glucosamine (NADG), the building blocks of the intestinal mucosa, protects and restores a healthy mucosal layer.  NADG allows healthy immune modulation by supporting the growth of a type of helpful good bacteria, Bifidobacterium bifidum.
Organic Acacia senegal FibregumTM is a soluble, non-bulking fiber that supports the growth of good bacteria and intestinal cell function, and assists in water absorption. 
Vitamin A (All trans beta-carotene) works to maintain mucous membranes and healthy immune function.
Serving Size 8 Capsules

 

Amount Per Capsule

 

Glutamine


(L-Glutamine USP)

625 mg
N-Acetyl-D-Glucosamine USP


N-Acetyl-Beta-D-Glucosamine




(Chitin Shellfish exoskeleton)

125 mg
Fibregum Bio™
Acacia senegal

Arabic gum

62.5 mg
Beta-carotene 2,000 IU (300 mcg RAE)
600 mcg
Non-medicinal Ingredients: Vegetarian capsule, cellulose, water, silicon dioxide and hypromellose.
USP (U.S. Pharmacopeia) ingredients meet or exceed upper limits for nutrients.
FOR DOCTORS

L-GLUTAMINE is the most abundant amino acid in the body, essential for critical building blocks in the body such as glucose, nucleic acids, peptides and proteins. Glutamine plays a role in the acid-base (pH) balance, and helps to regulate ammonia levels. Although a non-essential amino acid, Glutamine becomes essential for repair during trauma, major surgery or burns. Body stores may be depleted to effect mucosal repairs as the GI tract avidly uses Glutamine. Glutamine deficiencies may occur when the body needs more than it can produce. This is when gastrointestinal, musculoskeletal and immune systems may suffer. Many clinical studies emphasize the importance of dietary glutamine for normal functioning of the gastrointestinal tract, including the liver and pancreas.
HEALTHY GUT SUPPORT provides Glutamine for rebuilding the mass and strength of the GI tract's protective mucosal lining, as compromised intestinal permeability can lead to greater vulnerability of the body to toxins and allergens. Irritable bowel syndrome (IBS) manifests with intestinal barrier dysfunction from food and bacteria penetrating to cause mucosal inflammation. It may be extrapolated that IBS patients would greatly benefit from HEALTHY GUT SUPPORT given the Glutamine content.
The damage to the GI tract from trauma, surgery, chemotherapy result in high elevations of glutamine use for gut repair. As body stores of glutamine are depleted to ensure gastrointestinal restoration, other areas suffer including immunity. Immune cells heavily rely on glutamine for their growth, metabolic function and survival. This example of Glutamine's necessity in the critically ill was repeatedly demonstrated. A recent meta-analysis of studies from 1998 to 2003 revealed patients taking enteral Glutamine showed a substantial decrease in infection. Clearly, Glutamine impacts infectious morbidity dramatically through enhancement of systemic and intestinal immunity.
ACACIA  Acacia senegal Organic FibreGumTM within HEALTHY GUT SUPPORT provides soluble, fermentable dietary fiber. Acacia functions as a prebiotic in this way. Colonic microflora exhaustively ferment Acacia fiber in the colon producing short chain fatty acids (SCFA), which benefit a healthy colon in several ways. SCFA create an acidic venue favoring beneficial Lactobacilli and Bifidobacteria growth, regulate colonic water absorption which normalizes stool consistency, and provide an energy source for colonic mucosal cells. HEALTHY GUT SUPPORT is beneficial for both patients with constipation and diarrhea difficulties. FibreGumTM (Acacia) was compared to FOS & placebo and found FibreGumTM to have greater bowel tolerance than either, of up to 50 grams/day. Fructo-oligosaccharides (FOS) was found to cause flatus, bloating and borborygmi at much lower doses.
N-ACETYL-D-GLUCOSAMINE (NADG) is a naturally occurring amino sugar in glycosaminoglycans, which are the major structural components in intestinal mucous secretions as well as connective tissues. HEALTHY GUT SUPPORT provides NADG supplementation to encourage normal glycosaminoglycan synthesis and and intestinal mucous production. Large amounts of mucous are constantly secreted into the gut lumen by mucosal cells for protection and to move digested contents further along the GI tract. Since conversion glucosamine to NAG is compromised in patients with inflammatory bowel diseases, the use of HEALTHY GUT SUPPORT may be an imperative choice for restoration of optimal gastrointestinal function.
ALL-trans BETA-CAROTENE as provitamin A, helps to maintain mucous membranes and healthy immune function.
Adult: 4 capsules 2X daily between meals or with food.
Recommended Dose: Adult: 4 capsules twice per day between meals or with food.
Duration of Use: Consult a health care practitioner for use beyond three months.
Recommended Use: Healthy Gut Support helps support digestive and immune system health after periods of physical stress.
Cautions: May cause nausea, allergic skin rash or respiratory problems. Consult a health care practitioner if symptoms worsen. Consult a health care practitioner prior to use if you have diabetes mellitus in which blood sugar is difficult to regulate. Consult a health care practitioner prior to use if you are following a low protein diet.
Contraindications: Do not use if you are pregnant or breast feeding.
Hypoallergenic: This product contains NO gluten, dairy, beef, egg, corn, soy, peanut, pineapple, yeast, or sugar.
Do not use if bottle seal is broken or missing.
Store in a cool, dry place (59°F-85°F) away from direct light.
KEEP OUT OF REACH OF CHILDREN.
Related items