Joint Support Plus 90 Vcap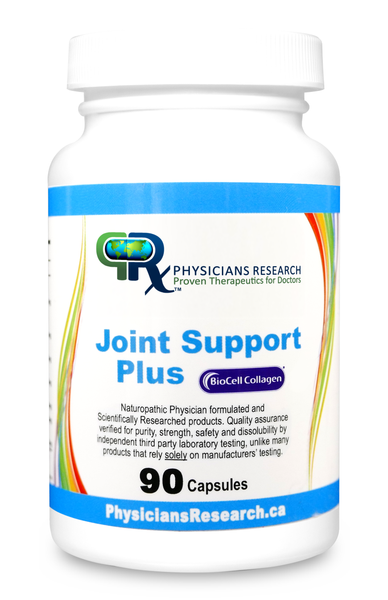 Comprehensive, Clinically Proven Formulation Has Everything You Need to Repair Your Joints
Rebuilds Joint & Connective Tissues

Reduces Symptoms of Pain, Inflammation & Stiffness

Maintains Healthy Joint Mobility & Function

Lubricates Joints, Protecting Cartilage from Aging & Chronic Stress

Modulates Inflammation to Preserve Joint and Connective Tissues
Currently, 1 in 5 adults in North America suffer from some form of Arthritis, causing destruction of the joints. Some forms include Rheumatoid Arthritis, Gout, Lupus, Fibromyalgia, Ankylosing Spondylitis and Osteoarthritis.
66% of Overweight Patients develop painful, stiff Osteoarthritis of the knees.
96% of Total Knee Replacements are due to Osteoarthritis.
JOINT SUPPORT PLUS attends to all aspects of deteriorating joint function due to chronic stress and aging. This formula addresses both the uncontrolled inflammatory damage and the insufficient repair of joint and connective tissues. 
INGREDIENTS
Glucosamine sulfate and Chondroitin sulfate both are essential building blocks to ensure synthesis and lubrication of structurally sound joint and connective tissue.
BioCell Collagen® provides the most abundant form of collagen in the joints, providing a naturally occurring matrix of type II collagen, hyaluronic acid, glucosamine sulfate, chondroitin sulfate, and proteins, to promote cartilage synthesis and joint integrity.
Methylsulfonylmethane (MSM) is also vital for connective tissue formation, as it provides a bioavailable source of organically-bound sulfur. 
Potent standardized extracts of Boswellia, Curcumin and Devil's Claw modulate the body's natural inflammatory response to prevent destruction of the joint cartilage and surrounding tissues.
Serving Size 4 Capsules

 

Amount Per Capsule

 

Glucosamine sulfate


Glucosamine sulfate Potassium chloride




(from crab/shrimp exoskeleton)

375 mg
Chondroitin Sulfate
(Poly-(1->3)-N-acetyl-2-amino-2-deoxy-3-O-ß-D-glucopyranurosyl-4-(or 6-)
sulfonyl-D-galactose) (from porcine cartilage) 
125 mg
BioCell Collagen II®**
Gallus gallus (Chicken) Sternal Cartilage


           Hydrolyzed Collagen Type II




           Chondroitin sulfate




           Hyaluronic acid

125 mg
Boswellia
(Boswellia serrata) oleo gum resin,


dried extract, min. 65% boswellic acids

125 mg
Devil's Claw
(Harpagophytum procumbens) secondary root tuber,


dried extract, min. 5% harpagosides

50 mg
MSM
(Methylsulfonylmethane)
50 mg
Curcuminoids
(Curcuma longa) root,


dried extract, min. 95% curcuminoids

50 mg
**BioCell Collagen II® is a registered trademark of BioCell Technology LLC., Newport
Beach, CA USA. (US Patents 6,025,327; 6,323,319; 6,780,841; 7,091,180;7,799,348;
other US and foreign patents pending.)
Non-medicinal Ingredients: Vegetarian capsule, cellulose, water, 

silicon

 

dioxide and hypromellose.
FOR DOCTORS
Stability and lubrication at contiguous bones is enabled by the complex connective tissue framework of muscles, tendons, synovial membranes, synovial fluid, cartilage, and ligaments.  Articular cartilage within joints is an intricate, protective gel-like tissue, comprised of type II collagen and glucosamine.  The cartilage structure is primarily type II collagen which permits the major stress-bearing quality of joints.  The chondroprotective components, chondroitin sulfate and hyaluronic acid, which are glycosaminoglycans and proteoglycans synthesized from glucosamine, bind water and intertwine within the collagen fibers to form the thick, elastic gel that lubricates and protects the cartilage.
Tissue health and integrity requires a perpetual supply of constituents to ensure healthy new cells replace the damaged older cells to account for the constant turnover of connective tissues.  When the body's ability to repair is surpassed by injury and chronic degeneration, progressive erosion of cartilage tissue and loss of lubricating fluids occurs, resulting in pain, stiffness and inflammation.
Obesity, joint injury, mechanical stress, genetic predisposition and age are all factors that exacerbate joint degeneration, a disease known as Osteoarthritis.  In fact, more than half of the population, age 65 or older, would show x-ray evidence of osteoarthritis in at least one joint.  Over 25 million North Americans suffer from this disease, which is the most common cause of physical disability.
GLUCOSAMINE SULFATE, an amino sugar, is one of the nutritional building blocks necessary for healthy regeneration and maintenance of connective tissue. Connective tissue encompasses tendons, ligaments, cartilage and bone matrix. The lubrication of joints require production of proteoglycans, which are reduced from glycation of cartilage occuring with increased age.
To re-establish proteoglycan levels, Glucosamine supplementation is crucial as its essential component. Glucosamine sulfate has been proven to have a gradual and progressive improvement in joint pain and tenderness symptoms, and a greater range of motion and walking speed. A meta-analysis of fifteen double-blind, placebo-controlled clinical trials confirmed this. JOINT SUPPORT PLUS uses Glucosamine sulfate stabilized with potassium chloride to minimize sodium for patients.
CHONDROITIN SULFATE like Glucosamine is rich in sulfur, as a glycosaminoglycan and comprises the majority of cartilage. Chondroitin aids in water and nutrient retention in the joint, facilitating circulation of nutrient molecules within the cartilage. Joint pain is significantly reduced with Chondroitin sulfate, emphasized by meta-analysis of seven randomized double-blind clinical trials.
BIOCELL COLLAGEN® is a pure, bioavailable source of hydrolyzed collagen type II protein, chondroitin sulfate, hyaluronic acid and cartilage matrix glycoproteins. Collagen type II, most prevalent in joint cartilage, aids in new cartilage production, reducing oxidative damage to the joints. Hyaluronic acid nourishes to retain the innate moisture content of skin and joint fluids. Chondroitin sulfate aids in synthesis of cartilage and inhibits cartilage-degrading enzymes.
Naturally available amino acids essential for collagen synthesis, lysine & proline, are found within BioCell Collagen® also. Sourced from 100% pure chicken sternal cartilage, BioCell Collagen® is one of the richest natural sources of glucosamine, chondroitin, hyaluronic acid, and other chondroprotective nutrients. Collagen features many chondroprotective constituents, although its native, undenatured form offers larger molecules preventing bowel absorption. BioCell Collagen® provides hydrolyzed cartilage nutrients through a patented manufacturing process, allowing easier absorption and greater bioavailability of these low weight molecules. This allows the nutrient ratios to maintain constant to preserve connective tissues, promote cartilage synthesis and improve skin healing and appearance.
BOSWELLIA  Boswellia serrata contains boswellic acids that have been used for centuries by Ayurvedic medicine for joint pain and other inflammatory conditions. Boswellic acids inhibit 5-lipoxygenase (5-LOX) and leukotriene synthesis, and inhibit leukocyte elastase, which are the likely mechanisms for its anti-inflammatory properties, thereby promoting pain reduction.
In vitro testing revealed Boswellia specifically, and in a dose-dependent manner, blocks the synthesis of pro-inflammatory 5-LOX (5-lipoxygenase) products, including 5-hydroxyeicosatetraenoic acid (5-HETE) and leukotriene B4 (LTB4), which cause bronchoconstriction, chemotaxis, and increased vascular permeability. Other anti-inflammatory plant constituents, such as quercetin, also block this enzyme, but they do so in a more general fashion, as an antioxidant; whereas, Boswellia seems to be a specific inhibitor of 5-lipoxygenase.
Boswellia has also been observed to inhibit human leukocyte elastase (HLE), which may be involved in the pathogenesis of emphysema. HLE also stimulates mucus secretion and thus may play a role in cystic fibrosis, chronic bronchitis, and acute respiratory distress syndrome. Preliminary research suggests Boswellic acids stabilize mast cells, which suggests usefulness for asthma.
Boswellic acids might also have a disease modifying effect, decreasing glycosaminoglycan degradation and cartilage damage. Boswellia also might inhibit mediators of autoimmune disorders, as it seems to reduce production of antibodies and cell-mediated immunity. It is known that non-steroidal anti-inflammatory drugs (NSAIDS) can cause a disruption of glycosaminoglycan synthesis which can accelerate the articular damage in arthritic conditions. Boswellia significantly reduced the degradation of glycosaminoglycans compared to controls, whereas ketoprofen caused a reduction in total tissue glycosaminoglycan content.
DEVIL'S CLAW  Harpagophytum procumbens is approved by the German Commission E for degenerative disorders of the musculoskeletal system and the Natural Health Products Directorate of Canada for joint pain associated with osteoarthritis. Clinical research has shown it to be effective for arthritis and rheumatic disorders.
Harpagosides are primary constituent found in greater amounts in secondary storage tubers over the tap root. Whole plant extracts are therapeutically superior to isolated parts. Clinical trials analyzing joint and low back pain treatment with H. procumbens collaboratively reviewed that 50-60 mg harpagoside daily was more effective for improved pain and mobility then lower doses.
Harpagosides inhibit inducible nitric oxide (iNOS) and cyclooxygenase-2 (COX-2) expression via nuclear factor kappaB (NF- κB) and interleukin-1β suppression, thereby reducing inflammation. Matrix metalloproteinases and elastase are also affected inhibiting cartilage degradation, supporting Harpagophytum as chondroprotective.
MSM (METHYL SULFONYL METHANE) is a naturally occuring compound providing 34% elemental sulfur, a mineral essential for at least 150 compounds including antioxidants, antibodies, tissues, enzymes and hormones. The presence of sulfur is crucial in the synthesis of glycosaminoglycans for manufacturing collagen for healthy connective tissues, like joints, ligaments and tendons. Sulfur allows the flexible bonds between cells to block unwanted chemical and physical cross-linking of collagen seen in aging individuals. MSM ensures appropriate levels of bioavailable sulfur for regeneration and maintenance of joints and other connective tissues.
Less destructive changes in joints are seen with MSM supplementation.
CURCUMIN / TURMERIC Curcuma longa historically been used as both a spice and an Ayurvedic remedy for liver disease and inflammatory conditions. There are over thousands of citations in Medline relating to the biologic effect of Curcumin. Perhaps most of the activities associated with Curcumin are based on its ability to suppress inflammation. Curcumin has been shown to be effective in acute as well as chronic models of inflammation.
The active component of Curcuma longa includes curcuminoids and sesquiterpenes providing not just potent anti-inflammatory effects, but also antioxidant, hepatoprotective, hypoglycemic, hypolipidemic and anti-proliferative benefits. The primarily beneficial curcuminoids have been shown to downregulate activation of the transcription factor NF-kB, thus leading to downregulation of the expression of TNF-a, adhesion molecules, MMPs, COX-2, 5 –LOX and other inflammatory intermediates, all of which are associated with arthritis.
The volatile oils and curcumin of Curcuma longa exhibit potent anti-inflammatory effects. Oral administration of Curcumin in instances of acute inflammation was found to be as effective as cortisone or phenylbutazone, and one-half as effective in cases of chronic inflammation. In rats with Freud's adjuvant-induced arthritis, oral administration of Curcuma longa significantly reduced inflammatory swelling compared to controls. In monkeys, Curcumin was shown to inhibit neutrophil aggregation associated with inflammation.
The anti-inflammatory properties of Curcumin may be attributed to its ability to inhibit pro-inflammatory arachidonic acid, as well as neutrophil function during inflammatory states. Curcumin may also be applied topically to skin to counteract inflammation and irritation associated with inflammatory skin conditions and allergies. An in vitro study demonstrates Curcumin antioxidant role in down-regulating nitric oxide formation, a key element in inflammation and possibly in the process of carcinogenesis.
Curcumin and the other curcuminoids have been entered into Phase I clinical trials for cancer chemoprevention by the National Cancer Institute, due to their antioxidant and anti-inflammatory activities. Curcumin, demethoxycurcumin and bisdemethoxycurcumin have shown to also exhibit anticarcinogenic, anti-atherosclerotic, anti-inflammatory (including anti-arthritic), antiviral, anti-fungal and immune-modulating effects. They appear to help detoxify some drugs and other chemicals. There is some evidence the curcuminoids may help prevent cataracts and ameliorate chronic anterior uveitis. They may also help speed wound healing.
Curcumin has also been shown to possess anti-rheumatic and anti-arthritic effects, most likely through the down-regulation of COX2, tumor necrosis factor (TNF), and other inflammatory cytokines.
Adult: Take 2 capsules 2X daily with food.
Recommended Dose: Adult: Take 2 capsules twice daily with food.
Recommended Use: Helps to relieve joint pain associated with osteoarthritis, a factor in maintaining cartilage and/or joint health, and helps to protect against the deterioration of cartilage.
Duration of Use: Use for a minimum of 1 month to see beneficial effects.
Cautions and Warnings: Consult a Health Care Practitioner if symptoms persist or worsen after 6 months. Consult a Health Care Practitioner prior to use if you have hypertension, heart disease, diabetes, severe hepatic or renal impairment, excess stomach acid or stomach ulcers, gallstones or a bile duct obstruction. Consult a Health Care Practitioner prior to use, if you are taking antibiotics, anti-arrhythmic, antiplatelet or blood-thinning medication. Discontinue use if you experience an allergic reaction or prolonged gastrointestinal discomfort.
Known Adverse Reactions: Some people may experience mild gastrointestinal bloating, constipation or indigestion. Hypersensitivity (e.g. allergy) is known to occur; in which case, discontinue use.
Contraindications: Don not take if you are pregnant or breast feeding.
Hypoallergenic: This product contains NO gluten, dairy, beef, egg, com, soy, peanut, pineapple, yeast or sugar.
Do not use if bottle seal is broken or missing.
Store in a cool, dry place (59°F-85°F) away from direct light.
KEEP OUT OF REACH OF CHILDREN.
Related items