IRON Multi Support 180 Vcap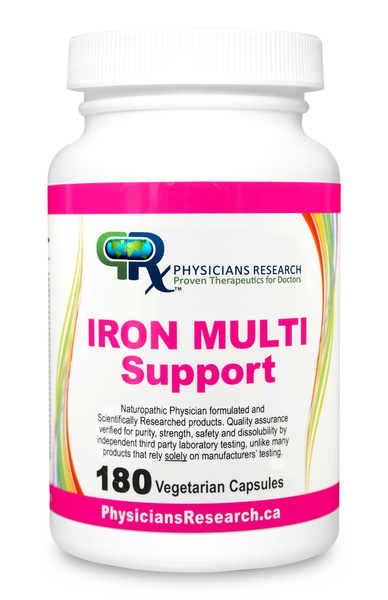 Maximal Potency, Complete Multivitamin & Mineral with the Optimal IRON Absorption & NO Constipation
Best Tolerated, Best Absorbed IRON source FerroChel® Ferrous bisglycinate

Clinically Proven to Prevent & Treat IRON Deficiency Anemia

Critical for Proper Oxygen Delivery by Red Blood Cells
Full Spectrum of 30 Essential Vitamins, Minerals & Trace Elements

Pharmaceutical Grade (USP) Vitamins

Highly Absorbable Mineral Chelates from World Leading Albion® Labs

Exceptional Tolerance & Bioavailability for Optimal Effectiveness

Facilitates Healing & Health Maintenance
COPPER included for Antioxidant Enzymes & to Balance Zinc levels

FREE of Common Allergens, Artificial Flavors, Colors, Starch, Salt, Waxes, Preservatives, Allergenic/Chemical Binders, Fillers

NO Magnesium Stearate or Stearic Acid which limits absorption
Indicated for: Menstruating Women, Pregnant & Breastfeeding Women, Elderly, Cancer Patients, Vegetarians, Vegans, Endurance Athletes, Patients with Malabsorption like Celiac Disease, Ulcerative Colitis, Crohns, Inflammatory Bowel Diseases etc.

Fighting Fatigue?
Many people complain of tiredness, lethargy & fatigue. In fact, Iron Deficiency Anemia is the most common nutritional deficiency worldwide.  This explains the main cause of fatigue in menstruating women. Over 25% of women with regular periods are iron deficient, suffering from fatigue, coldness, foggy thinking and weak immunity. 
The mineral IRON is required by the body to make a critical component (Hemoglobin) of Red Blood Cells (RBC). All the tissues of the body rely on the RBC for Oxygen from the Lungs. Energy production & Cell function also need IRON, which is why low IRON causes low energy.
IRON MULTI SUPPORT can effectively treat and prevent IRON deficiency, and the resulting Anemia.
Signs you may have IRON Deficiency/Anemia:
Extreme Fatigue, Tiredness
Foggy Thinking
Dark Circles under Eyes
Brittle Hair & Nails
Pale Skin
Feeling Chilly, Cold Hands & Feet
Weakness, Shortness of Breath, Chest Pain
Frequent Infections
Headaches, Dizziness or Lightheadedness
Inflamed Tongue
Children: Slow thinking & Social development  
This multi-nutrient compilation is superior to other multivitamin-mineral preparations by providing:
*SUPERIOR IRON SOURCE:

 

FerroChel® Ferrous Bisglycinate:
* Does not react with other nutrients
* Delivered Intact to Small Intestine, No breakdown in Stomach
* Bioavailable (easily absorbed)
* Minimized Gastric Upset:  In clinical research comparing inorganic iron to Ferrochel®, a significant number of study participants preferred Ferrochel® and reported fewer instances of gastrointestinal (GI) upset than with ferrous sulfate, which is typically associated with gastric side effects such as constipation and nausea.
* Safe:  Ferrochel® has been found to be 2.6-times safer than iron sulfate and safer than typical inorganic iron found in foods and dietary supplements.  Ferrochel® absorption is controlled by body iron stores with greater amounts generally being absorbed by individuals with lower iron status
*Metabolic, Adrenal & Homocysteine Metabolism Support: 
Complete & Significant amounts of Vitamin B-complex, Ascorbic acid & Pantothenic acid
*Blood Sugar Support:

 
Biologically active vitamins & minerals, Biotin, Chromium, Vanadium
*Activated Co-Factor Vitamins for Optimal Function: 
Pyridoxal 5' phosphate – activated B6
*Best Biologically Active & Bioavailable forms of B12:

 
Hydroxycobalamin & Methylcobalamin
*Antioxidant/Free Radical Scavenging Protection: 
Both Vitamin A & precursor Beta-carotene for more comprehensive nutrition
100% Natural Vitamin E, Lutein for Eye Health, Selenium (Selenomethionine)
*Albion® Laboratories Minerals & Trace Element compounds:
Full-reacted low molecular weight mineral compounds with exceptional tolerance and documented bioavailability
*More Bioavailable Mineral forms with
Aspartates, Citrates, Glycinates
*Trace Minerals for Super Oxide Dismutase (SOD):

 
Zinc, Copper & Manganese Bisglycinates
*Calcium to Magnesium ratio of 1:1
The Foundation of a Health Protocol is to ensure you are well-nourished, absorbing your nutrients and that your potential nutrient deficiencies are addressed, likely from modified diets, and probable pre-existing deficiencies.  What with depleted soils, pesticides, herbicides, acid rain, non-organic prevalence of food, and our busy lifestyles, taking IRON MULTI Support is a cost effective Insurance Policy.
IRON MULTI Support by PHYSICIANS RESEARCH provides a full spectrum of thirty (30) essential vitamins, minerals and trace elements in clinically beneficial amounts, with documented bioavailability for optimal absorption and utilization to facilitate healing and health maintenance. 
This potent formulation works best in divided doses adjusted based on the severity of the patient's deficiencies.  Vegetarian capsules are utilized and every ingredient in each batch is tested by a third party independent laboratory per USP protocols to ensure optimal potency, and capsule disintegration within 45 minutes to maximize nutraceutical bioavailabilty.
IRON MULTI Support is hypoallergenic, and contains NO gluten, dairy, beef, egg, corn, soy, peanut, pineapple, yeast, sugar, sweeteners, starch, salt, waxes, artificial flavors, colors, or preservatives.  MULTI Support NO IRON is also available.
Serving Size 3 Capsules

 

Amount Per Capsule

 

Vitamin C Ascorbic Acid (Calcium ascorbate USP)
200 mg
Pantothenic acid Vitamin B5 (Calcium d-pantothenate USP)
61.3 mg
Vitamin E Alpha-tocopherol
55 mg

(RRR-alpha-tocopheryl succinate USP) 67 I.U.

45 mg
alpha-tocopherol (AT)
Magnesium (Magnesium bisglycinate***)
41.7 mg
Calcium (DimaCal™ Dicalcium malate***)
26.7 mg
Calcium (Calcium ascorbate USP)
24 mg
Thiamine Vitamin B1  (Thiamine hydrochloride USP)
16.7 mg
Choline (Choline bitartrate) NF 12
16.7 mg
Potassium (Potassium aspartate)
16.7 mg
Niacinamide Vitamin B3  (Niacinamide USP)
12.5 mg
Riboflavin Vitamin B2 (Riboflavin USP)
8.3 mg
Vitamin B6 Pyridoxine (Pyridoxal-5-Phosphate)
8.3 mg
Niacin Vitamin B3 (Nicotinic acid USP)
4.2 mg
Inositol NF12
4.2 mg
Zinc (Zinc bisglycinate***)
3.3 mg
Iron FerroChel® (Ferrous bisglycinate***)
3.3 mg
Manganese (Manganese II bisglycinate***)
1.7 mg
Lutein (isolated from marigold flower)


(oleoresin of

Tagetes erecta

L. (Asteraceae))

1.7 mg
Beta-carotene  (All-trans beta-carotene) 1,667 I.U. 


(250mcg RAE)

500 mcg
Vitamin A (All-trans beta-carotene) 833 I.U. (250 mcg RAE)
500 mcg
Copper (Copper II bisglycinate***)
330 mcg
FolateVitamin B9  (Folacin USP)
200 mcg
Boron  (FRUIT-EX® Calcium fructoborate 2.5%*)
116.7 mcg
Biotin
50 mcg
Selenium (L-Selenomethionine) Yeast-free
33.3 mcg
Chromium (Chromium polynicotinate USP)
33.3 mcg
Iodine (Kelp Laminariales Ascophyllum nodosum)
25 mcg
Molybdenum (Molybdenum citrate)
25 mcg
Vanadium (Vanadyl sulfate IV USP)
16.7 mcg
Vitamin B12 (Methylcobalamin)
16.7 mcg
Vitamin B12 (Hydroxocobalamin USP)
16.7 mcg
Vitamin D Vitamin D3 (Cholecalciferol) 133 I.U.
3.3 mcg
* FRUITEX-B® US Patent #5962049 under license from VDF FutureCeuticals, Inc.
***Albion Laboratories
Non-medicinal Ingredients: Vegetarian capsule, cellulose, water, silicon dioxide and hypromellose.
USP (U.S. Pharmacopeia) ingredients meet or exceed upper limits for nutrients.
FOR DOCTORS
*Calcium (DimaCal®) is more water-soluble, more highly absorbable and bioavailable than calcium citrate, much higher elemental calcium content at 29% than most other calcium forms. Additionally the 64% malic acid w/w allows DimaCal® to support the Krebs cycle and glyoxalate energy producing cycles. Gastric tolerance of DimaCal® is much better compared to calcium carbonate and other alkali calcium forms as DimaCal® does not cause gas formation in the presence of stomach acid. The malic acid acts a natural buffer to prevent acid rebound, as with other calcium forms.
*Bone Metabolism & Connective Tissue Support: Vitamin D3 Cholecalciferol, Boron as Calcium Fructoborate
*Boron (Calcium Fructoborate FruiteX-B®) has excellent absorption & sustained bioavailability. Calcium Fructoborate provides reduced joint inflammation, improvement in bone and joint health, and enhances the metabolism of the crucial minerals, calcium, phosphorous, and magnesium. The unique natural chelate of two fructose molecules to boron enhances the mineral's ability to access & attach to cell membrane receptors allowing for optimal parathyroid regulation and reduced vitamin D elimination. Urinary excretion of calcium and magnesium is significantly reduced and hormone balance is supported in post-menopausal women, as Boron supplementation helps the body's metabolism of Vitamin D & hormonal regulation including estrogen and testosterone. Recent studies have showed calcium fructoborate to be a potent anti-inflammatory nutrient, with clear antioxidant activity. Its involvement in breast cancer cell death was most enlightening, as the calcium fructoborate was successful in turning off the highly inflammatory pathway that drives breast cancer cell replication.
Adult: 4 capsule 2X daily with food. Take a few hours before or after taking other medications, i.e. 3 hours away from Thyroid meds
Recommended Dose: Adult: 1 capsule 3 times daily with food. Take a few hours before or after taking other medications.
Recommended Use: IRON MULTI Support is a multi-vitamin/ mineral supplement that is a factor in the maintenance of good health, helping to prevent niacin deciency. IRON Multi Support helps with normal growth and development and helps the body metabolize carbohydrates, fats and proteins.
Cautions & Warnings: For Adult use only. Consult a health care practitioner prior to use if you are pregnant or breast feeding or have a liver disorder.
Known Adverse Reactions: People sensitive to nicotinic acid may experience flushing of the skin that is generally mild and transient.
Hypoallergenic: This product contains NO gluten, dairy, beef, egg, com, soy, peanut, pineapple, yeast or sugar.
Do not use if bottle seal is broken or missing.
Store in a cool, dry place (59°F-85°F) away from direct light.
KEEP OUT OF REACH OF CHILDREN.
Related items